October 31, 2019
PCCW Global has won four prestigious international telecommunications awards that were announced at two separate industry events, the Global Carrier Awards (GCA) and World Communication Awards (WCA), both held in London last night.
At the Global Carrier Awards, PCCW Global was announced as the winner of three awards, namely Best Asian Project, Best Network Technology Innovation and Best CSR Initiative.
At the 21st Annual World Communication Awards, PCCW Global was announced as the winner of Smart Cities Award.
For the GCA's "Best Asian Project" award, PCCW Global's winning nomination focused on the ICAO (International Civil Aviation Organization) CRV, a specialized aeronautical network that has been built on top of the company's high-speed and robust international IP network, with mission-critical connections running on a diversified infrastructure supporting multiple aviation-specific applications. The closed network is logically distinct from other traffic running on the same network route in order to provide the highest levels of security, availability and resilience.
PCCW Global's Software-Defined Interconnection® platform, Console Connect, was nominated for the GCA's "Best Network Technology Innovation" award. Console Connect was developed in response to the need on the part of enterprises operating internationally for agile and secure connectivity that can be provisioned on-demand by the user. The platform incorporates network automation software that manages the PCCW Global private MPLS network, allowing users with minimal technical ability to quickly spin up virtual private Layer 2 and Layer 3 connections, bypass the unpredictable public Internet and directly connect to their cloud applications, partners and business locations. This new level of speed and agility can be achieved via a simple, easy-to-use web portal in a couple of clicks, or can be integrated directly into enterprise applications via an API.
PCCW Global's winning nomination for the GCA's "Best CSR Initiative" highlighted the role the company's team in Mozambique played in providing emergency telecommunications services for local and international disaster teams after the southern African nation was hit by not just one, but two tropical cyclones in less than a month.
Tragically, thousands of people lost their lives and many thousands more were left homeless after the tropical cyclones brought hurricane-force winds, heavy rains and flooding, mainly to the country's coastal regions, earlier this year. Residential homes, commercial buildings as well as electricity and communications infrastructure were also destroyed by the force of the storms.
Critically, without communications, local disaster management organizations lacked the infrastructure to coordinate their efforts, emergency response teams or vital support that was being rushed by the international community in order to avert a growing humanitarian crisis following the impact of the dual tropical cyclones.
PCCW Global's Mozambique team on the ground immediately sprang into action by developing a plan to re-establish communications in support of the international disaster communications organisation, Télécoms Sans Frontières (TSF).
Supported by PCCW Global's team in Mozambique, TSF was among the first humanitarian organizations to reach the disaster's center and worst hit location, Beira City, where more than 80% of the region's infrastructure had been destroyed.
Mr. Marc Halbfinger, Chief Executive Officer, PCCW Global, said, "We are very proud that our teams who have worked so hard to develop cutting edge and innovative solutions have now been honoured with four prestigious industry awards and all of them on the same evening. It's a testimony to the hard work and effort everyone has put in over the past months to deliver these world-class services and solutions on a global scale."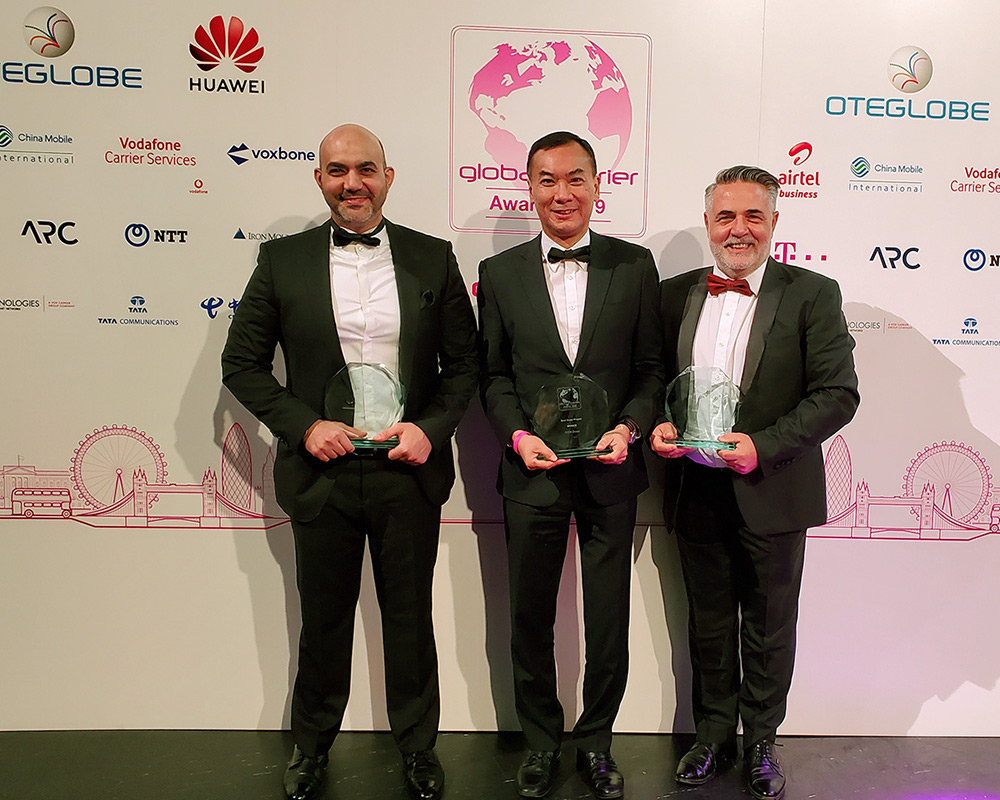 Mr. Frederick Chui, Chief Commercial Officer (center), Mr. Sameh Sobhy, Vice President of Middle East, Turkey and Africa (left), and Mr. Petros Mavroidis, Vice President of Europe & West Africa, receive the Global Carrier Awards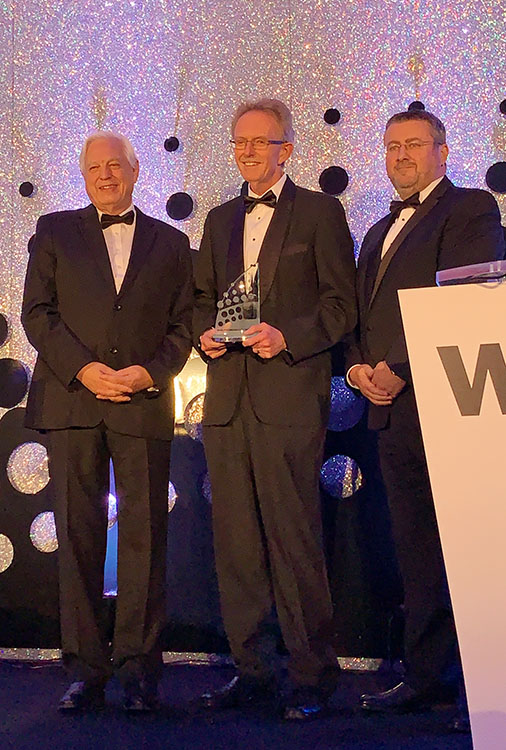 Mr. Mike van den Bergh, Chief Marketing & Strategy Officer (center), receives the Smart Cities Award at the World Communication Awards